FRIDAY!

T.J. HOOKER-TAYLOR
T J Hooker Taylor comes from a musical family. His mother, Mary Ann Hooker, and father the late Great Johnnie Taylor, raised him in the church. Along with his family and at the age of ten he joined his first group, The Young Golden Voices, who performed at all the churches in the Kansas City area. At the age of 16, TJ started an R & B band called The Grand Jury Band, who opened for many top acts that came to the city like The Bar-Kays, Cameo, Slave and many more.
At The age of 21, TJ's young voice started to change. "I could hear that (Taylor Sound). I had never tried to sound like my dad. I didn't even like the Blues. But on my 25th Birthday, I was given a chance to open for my Dad and get paid, " says Hooker-Taylor . "That's when the Blues hit me".
SATURDAY!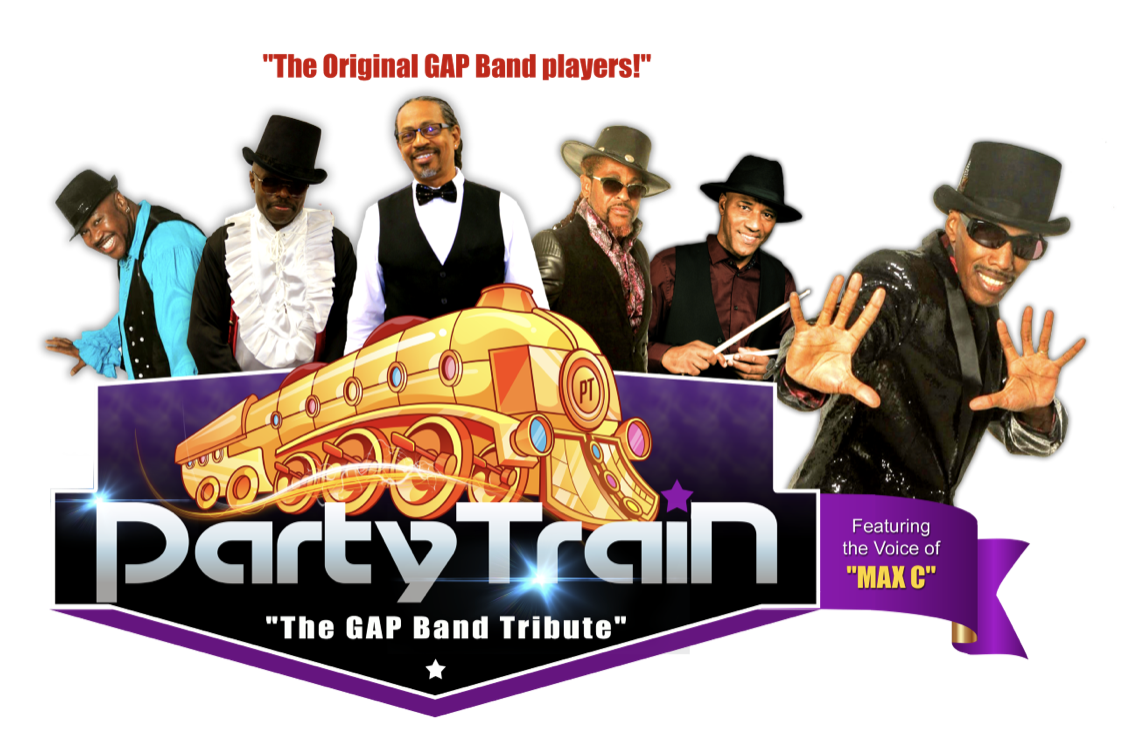 PARTY TRAIN (THE GAP BAND TRIBUTE BAND)
PARTY TRAIN is the funky, rocking, dancing, soulful mega band brought to life by the some of the musicians who played and toured with the legendary group, The Gap Band.
Musical Director, Keyboardist, Singer, and Trombone player, Oliver Scott first introduced his musical talents as a player for The Gap Band in May of 1979. As a young man, Oliver Scott wrote songs and performed numerous nightclub dates regionally. In 1977 he and his brothers formed the band Bloodline and later he joined The Gap Band. Oliver has re-joined with other former Gap Band members as the Musical Director to organize PARTY TRAIN bringing back the authentic sound that their fans love.
Outstanding Keyboardist, Billy Young has a career that includes 22 years as a player with the Gap Band.
Talented Keyboardist and Vocalist, Roman Johnson shared decades of sound as a Gap Band player since 1984. His talents and influences are part of the original sound that
continued to evolve as he served as the Gap Band's Musical Director, Writer, and Producer.
Anthony Walker, aka "Baby Gap", joined the Gap Band in the early 1980's, performing as a dancer, and contributing as a choreographer and song writer. For the next 23 years, he traveled the globe with the Gap Band and performed on Dick Clark's American Bandstand, Don Cornelius' Soul Train and Solid Gold.
Ronnie Kaufman is a drummer, percussionist, song writer, vocalist, and music producer. Ronnie begin his professional music career at the early age of nineteen. This is when he became the drummer for the legendary R&B, and Funk group, The Gap Band.
Lead Vocalist, Max'C (Charles E. Salter), was brought into the Gap Band family in 2015 by Ronnie Wilson, founder of the Gap Band. PARTY TRAIN stays true to the heart of the Gap Band with Max'C featured as lead vocalist. Originally hailing from Louisville, Kentucky – Max'C is a multi-talented Singer/Songwriter, Actor, and Entertainer.