J'Cenae
Jacqueline Cenae Williams a.k.a.  (J'Cenae), was born February 6, 1986 to Murindia and the late Clanater Williams in Rolling Fork, MS. J'Cenae began singing at her local church and also competed in talent shows, and pageants. In 2004 she auditioned for the local American Idol and won a spot to audition in New Orleans, LA and in Denver, Colorado in 2005. Her ability lead her to a music scholarship at Alcorn State University, where she performed with ASU Gospel Choir, ASU Concert Choir and Singers With A Purpose (S.W.A.P). Once leaving Alcorn around 2008, she began singing background for Blues singer Nathaniel Kimble and Chris Ivy. 
In 2010 she began traveling with the legendary Marvin Sease. After his passing she began concentrating on her own music career. She continued to sing background for artist such as Vick Allen, Lacee, and Nellie Tiger Travis. In 2016 J'Cenae released a single entitled Good Stuff. J'Cenae has performed at numerous of venues with her band. She has performed in MS, LA, AL, AR, TX, AND at a number of Blues Festivals and Casino's.  She has also performed on shows with Tucker,  Avail Hollywood, Dave Mack, Pokey, Bobby Rush, Grady Champion, Sweet Angel, Karen Wolf, Magic One, Rhomey and Calvin Richardson  just to name a few.
In 2018, J'Cenae's career started to flourish, when National recording artist Windell B took her under his wing. They began appearing on shows together, and in 2019, recordedher hit new single "I'll Be down in a Minute" featuring The Boss Windell B. This single was released in 2020 and is now being played throughout the United States and Africa.   J'Cenae has been nominated for a Jackson Music Award (Best Engineered track) "I'll be down in a minute.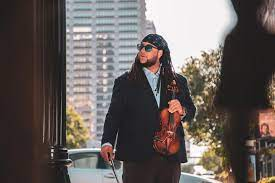 Maestro J
Maestro J (James Racine) James Racine was born in Port-au-Prince, Haiti into a family of musicians. His parents are both professional classical musicians and educators. Racine began playing the violin at the age of four, instructed by his mother, and later studied with Yvrose Philippe-Auguste and Romel Joseph. He also studied the piano and the flute.
By the age of sixteen, Racine was the assistant concertmaster of the Holy Trinity Philharmonic Orchestra in Haiti and the first violinist of the Holy Trinity String Quartet. He led the quartet to the Finals at the Fischoff National Chamber Music Competition in South Bend, Indiana. He then moved to the United States to pursue further musical education.
He studied the violin and the viola at the University of Kentucky. During his undergraduate years, Racine fell in love with teaching and volunteered his time to The String Project, a program delivered by the American String Teachers Association (ASTA) to offer a musical education to the local youth. He was then hired to commute and teach along with Professor Hoffman at the University of Cincinnati College-Conservatory of Music (CCM). At the conservatory, he taught a strings class for the preparatory program.
James Racine currently serves Kentucky Country Day School in dual roles. As a faculty member, James directs the orchestra program, teaching performance classes in all three divisions. As a diversity & inclusion director, he designs and delivers trainings for all constituencies of the school community, as well as the local and national educational and nonprofit sectors.
Racine is the founder and executive director of the Blazin' Strings Academy – a non profit afterschool program for underserved youth in Louisville, KY, giving them an opportunity to learn a string instrument in a safe environment, paired with academic tutoring and social emotional building.
Racine enjoys community work, specifically through youth development, education, economic opportunity, reentry support, and community organizing. He has taught at the Western Louisville Talent Education Center, AMPED, and has offered many free master classes to the youth. Most recently, Racine was selected as one of 50 BMe Community Fellows across the country. BMe (Black Male Engagement) is an award-winning network of community-builders that recognizes black men who have made positive contributions to society and inspired us to be better together. Racine is also the recipient of the JFCS MOSAIC award. This award recognizes international Americans who are making a significant contribution in their professions and in the community.
On stage, Racine is known as "Maestro J". He is one of the most celebrated contemporary jazz violinists of his era. His restless curiosity, passion, energy and multi-faceted musical interests have earned him the title of "The Blazin' Violinist". "Fear and creativity can't live in the same room", says Racine. He regularly honors performance commitments at events and many festivals across the nation and in the Caribbean. He has performed shows with artists such as Roy Ayers, Ronnie Laws, Euge Groove, Dru Hill, Amel Larrieux, Al Jarreau, George Duke, Chaka Khan, Ledisi, Lalah Hathaway, and more. Maestro J has released three studio albums on which he showcases the best of his talent. His curiosity and clarity of insight are a testament to his belief in the power of music as a unifying cultural force. An artist of precision and passion, Maestro J is committed to the violin as an instrument of expression and a vehicle for realizing the new and unexplored.